The Evergreen Gallery was established in 1987 and boasts being the oldest existing gallery in the Evergreen Community.
The Gallery represents around 90 of the most talented and recognized artists in Colorado. The artwork represented includes pottery, jewelry, hand-blown glass, wood working and turning, original paintings, limited edition prints, photography, textiles, mixed media, stained glass, sculpture and more.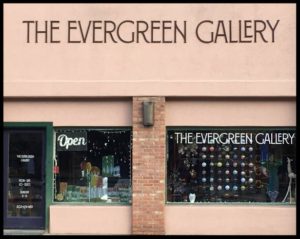 The Gallery staff helps to make selections for all of life's special moments, offering gifts for birthdays, weddings, anniversaries, mothers and fathers, graduates, and for all the special holidays throughout the year.
We have gift boxes available in many sizes that can accommodate most of our artwork. The boxes range from $1-5 and we can add a pretty bow for a finished look.
The focus of the artwork in the Gallery reflects the beautiful and awe-inspiring landscape, wildlife, light, textures, color and vibrancy of Colorado.
In September 2011, Lisa Mallin became the Gallery owner. Lisa was an employee at The Evergreen Gallery for many years prior to buying the business, so the choice to become owner was a natural "yes!" She loved working with, and getting to know customers.
In May 2017, Lisa sold the Gallery to Beth Riser. Beth has been an active member of the Evergreen artist community for many years and is a fine art photographer in her own right. She was thrilled to have the opportunity to become a gallery owner and has exciting plans moving forward, including the complete remodel that came about in January 2018.
As of June 2018, the 26-year-old tradition of the Evergreen Angel™pendants that benefit our local Mount Evans Home Health Care and Hospice continues officially and exclusively located at this gallery.
The Evergreen Gallery is located in downtown Evergreen at the traffic light (yes, there is only one downtown light!).
We look forward to seeing all who visit us, and we take pleasure in welcoming the many friends and relatives of our long-standing, loyal customers from all over the world!