Functional Patterned Pottery
Mandy Henebry's patterned pottery pieces make wonderful housewarming gifts as well as wedding presents. Her work is a popular choice for the younger generation who truly appreciate handmade items with a contemporary, yet classic look. However, her designs will resonate with all generations for years to come. Contact or visit the gallery for available options and allow us to help you choose the perfect gift. We continually have a wonderful selection of Mandy's collection. We love this collectible body of work. Shipping is available.
Ceramic Tree Globes – Indoor or Outdoor
Utility of Mandy's Pottery
"Utility is important when creating my new works. We all have an inherent understanding of functionality, which is why form cannot be dismissed. Perfecting the curve on a mug to nestle in your hand as you drink your morning coffee or shaping the bowl to hold the perfect amount of bread dough proves the importance of utility. I enjoy forms that fulfill specific purposes such as a salt cellar, nesting bowls, canisters, platters and mugs. With form, clay gives itself focus and the element of purpose. I design pots that I would enjoy using in my own home."


Design and patterns of Mandy's pottery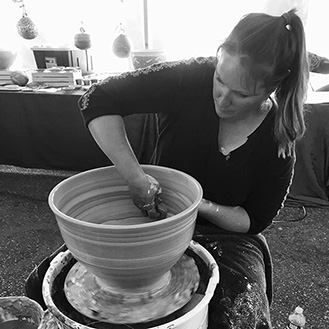 "The work I create is designed to suggest purpose and engage curiosity and interest through patterns and form. I look at design elements in everyday life such as textile patterns or a beautifully decorated home. Next, I contemplate how I can incorporate visual beauty into my work through texture, colored slips, sgraffito, and stenciling by adding those elements to graceful forms."
"I grew up on a farm in Wyoming. As a result, influences and inspiration come largely from nature and repetitive geometric patterns that I saw. My childhood memories of vast fields of grain flowing in the wind of my grandmother's gardens define a large portion of my surface design and color pallet.
The endless possibilities of technology also continue to play a part in my world of ceramics. The clean crisp lines and precision of a digitally created image appeal to me. Exploring the 3-D natural world and intertwining it with a 2-D geometric surface is crucial to my creativity."
---
Mandy Henebry currently works as a full-time studio potter in Castle Rock, Colorado. She teaches classes at the Castle Rock Recreational Center.