Wildlife Watercolor Artist
The Evergreen Gallery is excited to represent this artist in our gallery as of June 2019. Sarah Janece Garcia is an award-winning wildlife watercolor artist known internationally and living in Denver. Expect to see demos and more from this talented artist in our gallery. Read more about Sarah below these images.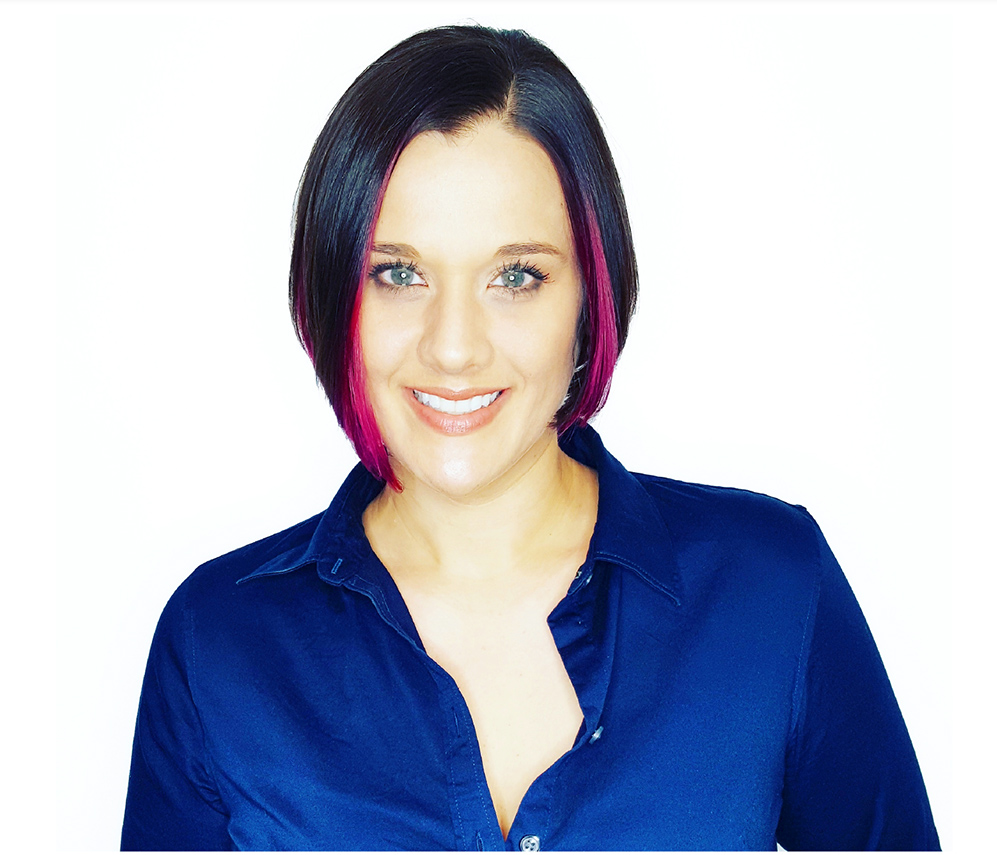 "My wish is to capture the wildlife that roams the earth alongside us, swims freely near us, and flies peacefully above us in unique ways to show the spirit and energy they have while also celebrating the vibrancy they bring to life.
The delicate mix of strength and gentleness that can be found in nature really fascinates me and I enjoy exploring this balance in my work. Nature's beauty enriches my soul and continues to bring me comfort and happiness at the precise moment I need it. I feel very strongly that when I show love and respect for nature, nature always returns the favor."
About Sarah's Artwork
Sarah Janece Garcia works primarily in watercolor to create unique wildlife portraits and nature-inspired paintings. Passion for art, attraction to color, and love for nature's beauty influences Sarah's style.
The energetic movements in her organic abstractions, along with vivid colors, and a focus on intricate detailing allows her work to capture nature in both literal and abstract ways. Various group and solo exhibitions throughout the United States have showcased Sarah's paintings. In the United States, this includes California, Colorado, Connecticut, New York, Louisiana, and Texas. International group exhibits include England, South Africa, Helsinki, Japan, and France.
Award-Winning Wildlife Watercolor Artist
Such exhibits include being selected as a finalist in the Bombay Sapphire Artisan Series as well as being a finalist of the Hunting Art Prize, which is a prestigious annual competition with the most generous annual award in North America.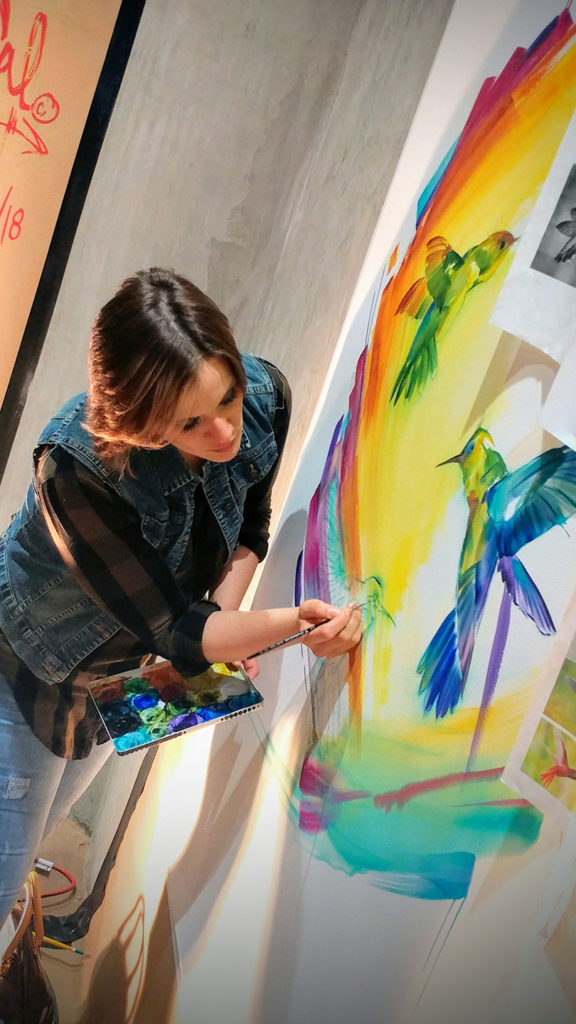 Sarah has won several awards, including having a painting designated as the grand prize winner in an art and design competition hosted by Uncommon Goods. After winning the design challenge, Uncommon Goods chose to offer multiple pieces of her work to their customers. These selected paintings have since been featured seasonally in the Uncommon Goods catalog which reaches millions worldwide.
Sarah's work has also been featured in various magazines including Art Materials Retailer, Dallas Style & Design, Patron Magazine, and more. She has also been featured on TV segments in San Antonio, Texas. Sarah's unique point of view, attention to detail, and bold artistic expression has caught the eye of many and her work continues to travel worldwide to reach collectors. One such notable collection her work is a part of is the Golden Artist Colors, Inc. collection in New York.
After being a part of the Golden collection, she started working exclusively with Golden Artist Colors watercolor brand QoR Modern Watercolors. She gives painting and art demos, as well as teaches workshops using the QoR products. The paint company designated Sarah in 2019 as a QoR Artist Educator.
Sarah's Passion for Wildlife
Sarah's deep love for nature and wildlife allows her to use her work to help raise awareness and funds for various charities, endangered species, and art organizations as a wildlife watercolor artist.
She is a member of the non-profit organization Arts for Animals, which is creating future artists and leaders in conservation through art education. Sarah also continues to work with groups such as Explorers Against Extinction, World Wildlife Fund, St. Jude, Incarnate Word College and more. She spreads the love for art and animals through her donations, artistic abilities, and artwork.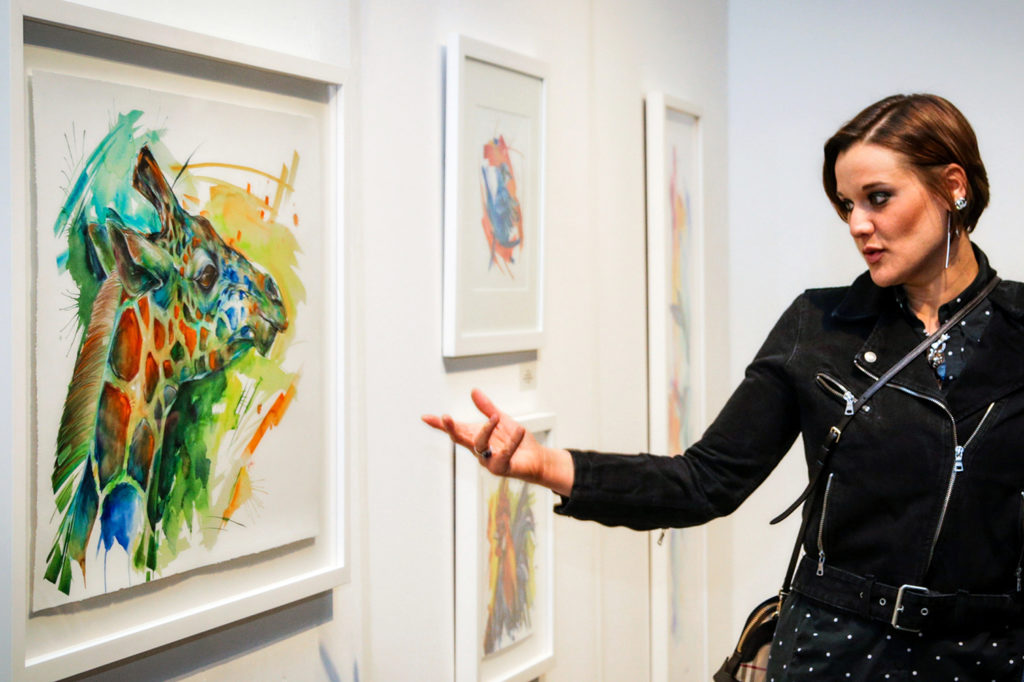 Sarah's current line of watercolor work continues to be juried and accepted into nationally ranked art festivals. She has gallery representation in Austin, Texas, Evergreen, Colorado and Santa Fe, New Mexico.
Sarah Janece Garcia lives in Denver, Colorado.