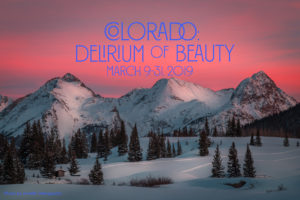 Upcoming Exhibit:
Colorado: Delirium of Beauty
March 9-31, 2019
In collaboration with the Colorado Month of Photography

Opening reception:
Saturday, March 9, 4-6 pm
More info – CLICK HERE
The Evergreen Gallery represents more than 90 of the most talented and recognized artists in Colorado. The artwork represented includes pottery, jewelry, hand-blown and fused glass, wood working and turning, original paintings, and limited edition prints, photography, textiles, mixed media, stained glass, metal sculpture, and so much more. The Gallery staff helps to make selections for all of life's special moments, offering gifts for birthdays, weddings, anniversaries, mothers and fathers, graduates, and for all the special holidays throughout the year.
The focus of the artwork in the Gallery reflects the beautiful and awe-inspiring landscape, wildlife, light, textures, color and vibrancy of Colorado.
The staff looks forward to assisting our loyal customers, as well as meeting all new visitors coming through the door. We also take phone orders and can ship. Give us a call or send an email to get the process started.
As of 2018, The Evergreen Angel™ is now exclusively located at The Evergreen Gallery.
The gallery was extensively remodeled in 2018, and 2019 will bring a website makeover as well. We're moving forward daily!
The Evergreen Gallery is participating in the Denver Month of Photography in March 2019. For more info, click the link under Events.
Fused Glass – Arlyss Grosz

Gallery Sales Counter

Jewelry – Eliza B. Lindsay

The Evergreen Angel

Giclees – Betsy Buckner

Mixed Media Artists

Kaleidoscopes

by Henry Bergeson

Open Daily