Article – Colorado Serenity Magazine February 2020
Curious Intentions
The Current Artwork of Mark Anthony King, Carol Fennell and Robyn Thayer
March 7, 2020 4-6 Artists' Reception
March 7-29, 2020 Curious Inclinations Show
By Beth Riser
This March, I have the pleasure of inviting guests into my gallery to transform the walls for the month. The show, titled Curious Inclinations: The Current Artworks of Mark Anthony King, Carol Fennell and Robyn Thayer, exhibits the work of three artists close to many of our hearts here in Evergreen.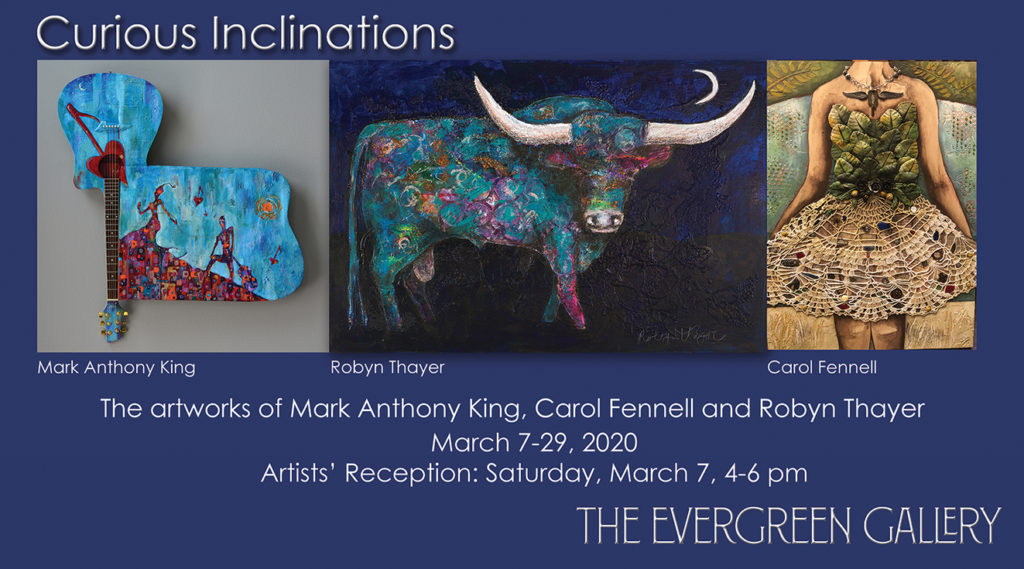 Mark Anthony King, a former local resident and original owner of Stoneheart Gallery, asked me if I would be willing to have a display of his work in the gallery for him to reconnect with Evergreen. I loved the idea… I just had to find the right timing and the inspiration of how to do it. Robyn Thayer inquired as well, and so here I am presenting three expressionistic, mixed media creative souls with personal connections to our community.
Carol Fennell, a former Evergreen resident, was a core artist of this gallery for 20 years, creating mountain nature scenes on clay tiles. She used to be an active part of Center for the Arts before moving into Denver. A couple of years ago, Carol took her work in a new direction. She once told me her mother came to her in a dream after she passed away, and at that point an emotional essence went into her creations. Her collectors from this gallery weren't ready for the change, so Carol decided to part ways in 2018. Every single week since Carol left the gallery, we have people asking for her artwork. This is now the chance for past collectors to experience Carol's new vision.
How is her style different? "My recent work is more about inspiring conversation and exploring current topics rather than recording a nature scene. It is highly textured and includes imagery such as women, nesting, and our natural environment including flowers, leaves, and bees as well as cows," explains Carol. Her work is even more imaginative and often much larger than before, especially since her underlying platform is now a canvas rather than a clay tile.  
Mark Anthony King's chosen work for this show will focus on a combination of his love of music and his art… guitars that have been reimagined. "I wanted to create works of art that could be picked up and played. I will be presenting a mixed media piece titled: She Played His Heartstring Like a Finely Tuned Guitar. It features a guitar attached to a canvas. I am also displaying a customized guitar that I basically stripped down and turned into a canvas, then rebuilt from scratch so that it is again, an instrument to be both heard and seen."
17-year Evergreen resident, Robyn Thayer is an emerging artist of larger works. She started off many years ago with watercolors in a line of colorful greeting cards. "Then I discovered the vibrancy and endless possibilities of acrylics, which took my water media fascination to a whole new level and I moved into larger pieces of artwork," explains Robyn.
With her larger works, Robyn has found herself as an artist, and is joyfully asserting her way into the artworld, recently gaining representation in Santa Fe. Her expressionistic paintings have patchworks of beautiful words, textures, and patterns layered and layered, which eventually turn into reverse silhouettes of spring chickens, bulls, bears, and bits of farm and forest. Robyn participates in Evergreen's Open Door Studios, inviting visitors to experience her creative world on a very intimate level.
After 33 years, abstract elements really haven't found a following in this gallery with mountain themes of aspens and wildlife being the favorite pieces to our particular clientele. However, I am truly excited to have imaginative artwork with an abundance of expressionism that will bring out curiosity on how it was created and why, while people can still identify with the artwork and the artist.
Please attend the Artists' Reception on Saturday, March 7 from 4-6 pm to connect and enjoy the evening with these three artists. Robyn's husband, Will Thayer, will be performing on the guitar and light appetizers and drinks will be available.
---
Colorado Serenity Magazine November 2018 Article about the Remodel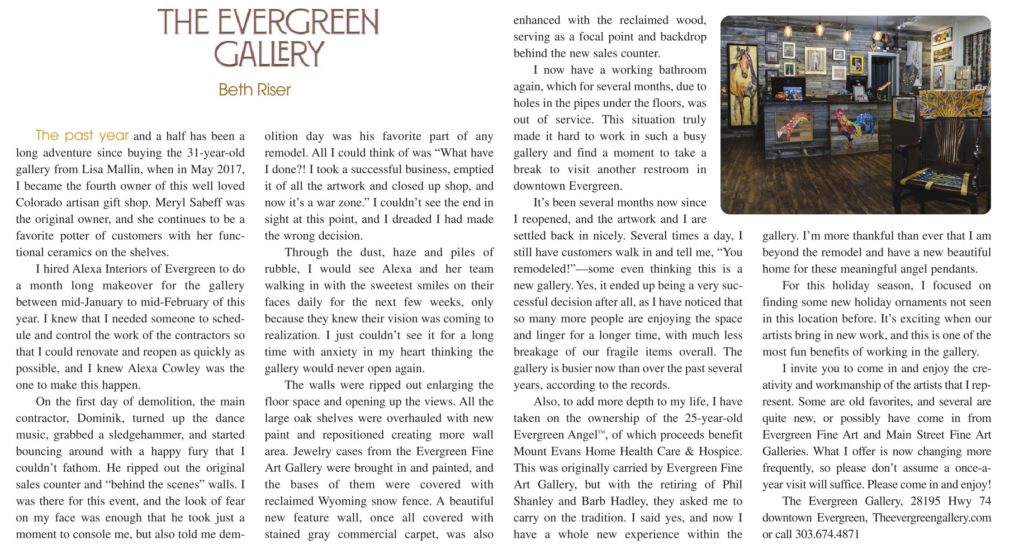 To view this article larger… CLICK HERE.
---
Article about the Evergreen Angels – November 2018 Colorado Serenity Magazine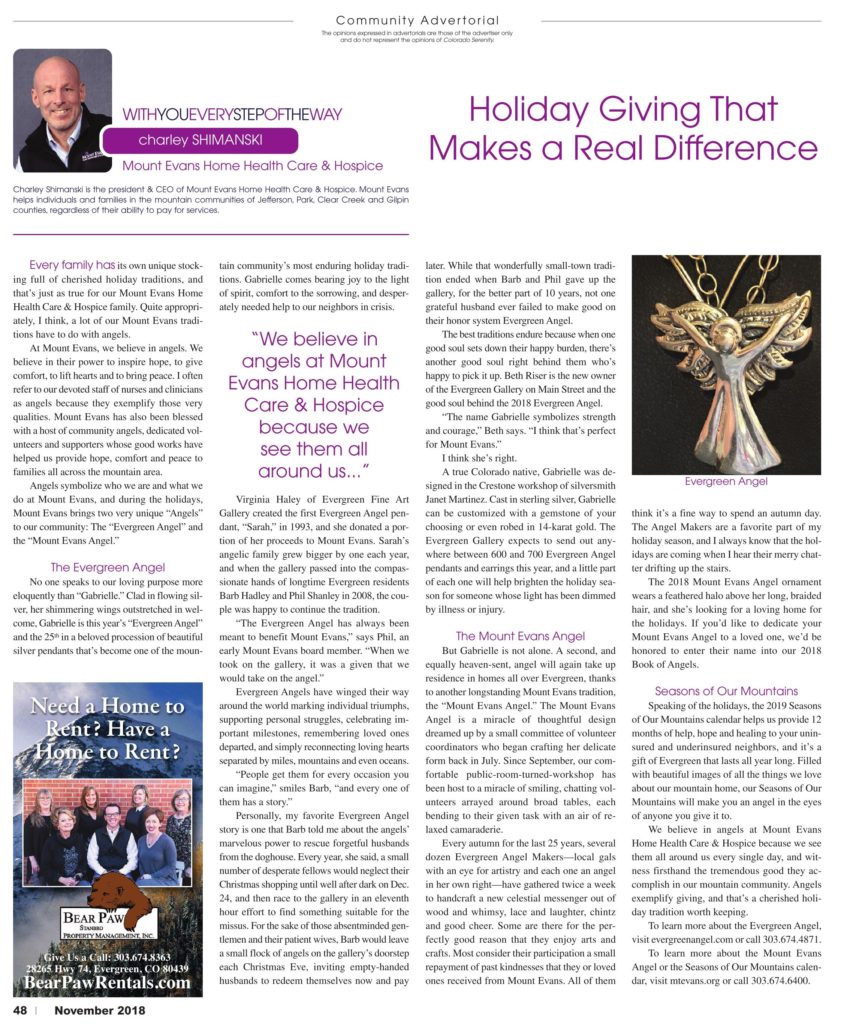 To view this article larger by Charley Shimanski, CLICK HERE.