"Serenity," the 2019 Angel" was designed from a drawing by local Evergreen illustrator, Philip Newsom. Janet Martinez, a Crestone, Colorado silversmith, translated Philip's drawing into a miniature sculpture that is made into pendants by a foundry in Rhode Island, in the old world silversmithing style of Paul Revere. The chosen gemstone for the limited designs is an opal. Opals are frequently chosen as a meditation gemstone. An opal of any kind is thought to easily assist with a tranquil and calm state of mind, and to reduce stress and uneasiness.
See the Evergreen Angel Collection here:
www.EvergreenAngel.com
As of June 2018, the Evergreen Angel collection of jewelry is now exclusively at a new location, here at The Evergreen Gallery.
You can see the angel pendants and charms on display
at the Evergreen Gallery,
or you can order immediately online at this website:
www.EvergreenAngel.com

You may also call to order angels.
One of our lovely employees can help you out.
303-674-4871

To sign up for the Evergreen Angel Newsletter, please click here.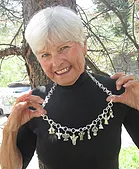 Evergreen Angels are
Made in the USA
The angels come in two sizes, regular and miniature. You may order the angels as pendants, earrings, and mini charms. In addition, custom-designed beaded necklaces can also be purchased. We offer many options to choose from in our angel jewelry collection.
A collaboration of Colorado artists designs each angel with drawings. Next, Crestone, Colorado silversmith artist, Janet Martinez, sculpts the angel. After that, a foundry in Rhode Island, in the silversmith tradition of Paul Revere, casts the pendants in the final form. The Evergreen Angels are made entirely in the USA. Since 1993, a portion of the proceeds from each sale has benefitted Mount Evans Hospice in Evergreen, Colorado. Each year, we unveil a new Evergreen Angel at the Angel Tea, and the hospice chaplain blesses her.
The story behind the Evergreen Angels
Evergreen Fine Art Gallery's founder, Virginia Haley, created the first Evergreen Angel, "Sarah," in 1993. It was a way to honor her grandmother and also offer tangible support to Mount Evans Hospice's indispensable mission. Since becoming custodians of that worthy tradition in 2008, Barb Hadley and Phil Shanley have never ceased to marvel at the Angels' powerful, versatile and far-reaching appeal. "Our relationship with hospice is very important to us," says Shanley, an early board member of Mount Evans. "The Evergreen Angel has always been meant to benefit hospice."
Hadley and Shanley chose to retire in 2018. Consequently, Beth Riser, owner of the Evergreen Gallery, became the newest curator of the angel program in June 2018. Beth is excited to carry on this wonderful tradition for the community. As a result of Beth's undertaking, The Evergreen Gallery carries the angels exclusively. As a convenience, this gallery is open every day, and located in Downtown Evergreen, making the angels easily available.
​Not only are Evergreen Angels beloved locally, but they are also often found giving joy and comfort to hearts around the world. "They fly all over, and people give them for all different reasons – Christmas, births, christenings, graduations, retirements, and bereavements. Sometimes when you don't know what to do, an Angel can be very comforting," says Barb Hadley. Time and again, Evergreen Angels have served as emissaries of hope, comfort and heartfelt empathy.
Start your angel jewelry collection today, or give one to a loved one. Shipping is available.