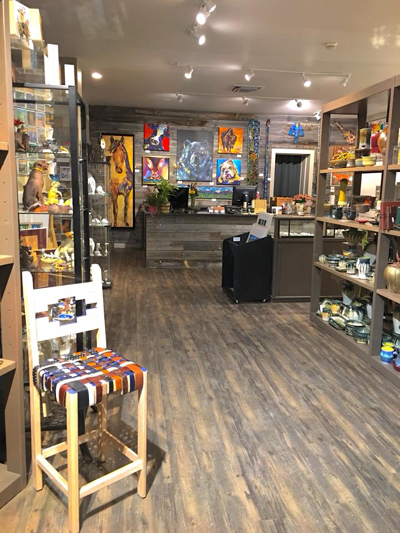 Hello,
Inquiring Artists!
It's quite an honor that so many wonderful artists want to be part of this gallery. It is always refreshing to meet talented, experienced and exciting artists. I truly wish I had the room to bring in more, but unfortunately space is limited, and an artist has to leave in order to take on any new artists.
This gallery has been in existence since 1987, with records going back to when it opened. There is a "recipe" book that keeps this gallery successful and filling the needs and desires of tourists and locals.   
Please read through these notes, and if you want to contact the gallery about joining, filling out the gallery's online form by using the link below is the best choice.
My employees and I are usually very busy at the gallery helping customers and taking care of many daily activities. Showing up without an announced or pre-planned appointment, especially on crowded weekends, is truly not a good way to reach out to this gallery. Customers come first, and as the owner of two businesses, I'm not readily available. 
Here's what to know and consider before applying:
You must be a Colorado artist.
Commission is 50 artist/50 gallery.
No monthly fees.
Exclusive representation by our gallery, within a 9-mile radius. Golden and Idaho Springs are outside of this radius, however Conifer, Morrison and Bergen Park are within 9 miles. 
Unique artwork, not too similar to other artists within the gallery.
We look for a cohesive body of work that will display beautifully as artwork that is collectible. 
Is your artwork your own? We don't accept artists without their own creativity. 
Is your work a good fit… will it sell in this location? Unfortunately, abstract art and very crafty art doesn't do well in this particular gallery. 
Have you visited the gallery and experienced the vibe? You must come in to see the gallery before applying. However, please don't "apply" in person with the employees, especially when there are customers. 
Are you able to supply a nice inventory and keep up, or add new work throughout the year? Expect about 4-6 times a year to add to inventory.
Artwork must have a professional presentation. 
We're looking for experienced artists with artwork that will make people happy.
Are you easy-going, flexible and/or accepting? If not, you won't be a good fit, so please don't apply. 
This gallery is not a co-op of artists. There is a an owner who juries the artwork. The employees do not select the artists.
The gallery receives about 5-10 artist requests a week to join the gallery…unfortunately in all different ways. We have artists randomly drop in without an appointment, unexpected trunk show portfolios in the parking lot, Instagram/Facebook messaging, emails, phone calls, texting a personal phone number, business cards randomly left around the gallery, aunts insisting their niece/nephew must be part of the gallery… yes, inconsistent requests that honestly we can't keep up with or have time to deal with, or just can't remember where or how each artist has introduced themselves. 
So please use the link to give us your contact details, and tell us about your artwork, and we'll be able to access your information easily, especially if space becomes available.
We may not get to you right away, unless your artwork is so unique, professional and blows us away as a great fit for the gallery that our patrons will love. Taking in new artists requires a lot of time.
Thanks so much for understanding. 
Beth … and the employees
To apply to the Gallery, please CLICK HERE.