The Evergreen Gallery was established in 1987 and boasts being the oldest existing gallery in the Evergreen Community.
The Gallery represents around 90 of the most talented and recognized artists in Colorado. The artwork represented includes pottery, jewelry, hand-blown glass, wood working and turning, original paintings, and limited edition prints, serigraphs, photography, textiles, mixed media, stained glass, and sculpture.
The Gallery staff helps to make selections for all of life's special moments, offering gifts for birthdays, weddings, anniversaries, mothers and fathers, graduates, and for all the special holidays throughout the year.
The focus of the artwork in the Gallery reflects the beautiful and awe-inspiring landscape, wildlife, light, textures, color and vibrancy of Colorado.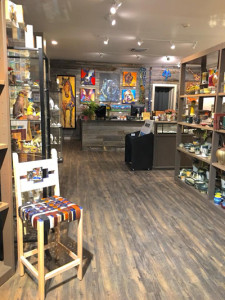 The original owner, Meryl Sabeff, established the Gallery in 1987 to provide fine crafts and fine arts created by Colorado artisans. Meryl is an award-winning, professional potter, who has produced porcelain ware for over two decades. Her pottery is sold exclusively at The Evergreen Gallery. She sold the business to her daughter-in-law, Valerie Howell, in 2009.
In September 2011, Lisa Mallin became the Gallery owner. Lisa was an employee at The Evergreen Gallery for many years prior to buying the business, so the choice to become owner was a natural "yes!" She loved working with and getting to know customers.
In May 2017, Lisa sold the Gallery to Beth Riser. Beth has been an active member of the Evergreen community for many years and is a photographer in her own right. She was thrilled to have the opportunity to become a gallery owner and has exciting plans moving forward.
The Evergreen Angel™ is now officially and exclusively located at this gallery.
The Evergreen Gallery is located in downtown Evergreen at the traffic light (yes, there is only one downtown light!).
Summer gallery hours are Monday – Saturday 10:00 am to 5:30 pm,
Sunday 11:00 am – 5:00 pm, with extended hours during the holiday season.
We look forward to seeing all who visit us, and we take pleasure in welcoming the many friends and relatives of our long-standing, loyal customers from all over the world!