Sculptures of Fused Glass Aspen Trees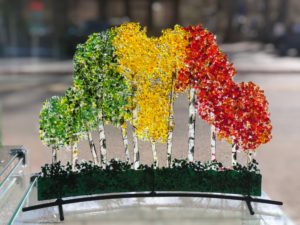 Glass aspen tree sculptures lit up at night.
Fused glass artist, Arlyss Grosz is known for her interpretation of the Colorado landscape translated into glass. The 3D glass aspen trees are characterized as eclectic and vibrant in color.
She retired in Colorado following a career in health care and higher education. While drawing, painting and forming objects from various media had always been a hobby, it was not until retirement that Arlyss found the necessary time to concentrate on her preferred medium… glass.
Arlyss studied with local, regional and national glass artists. She works in her own home studio where she produces a wide variety of fused, kiln-formed and cast glass. Invitational and juried shows have displayed this artwork as well as private collections throughout the U.S. The Denver Art Museum gift shop is the only other place that currently displays Arlyss's sculptures.
Arlyss Grosz lives in Longmont, Colorado.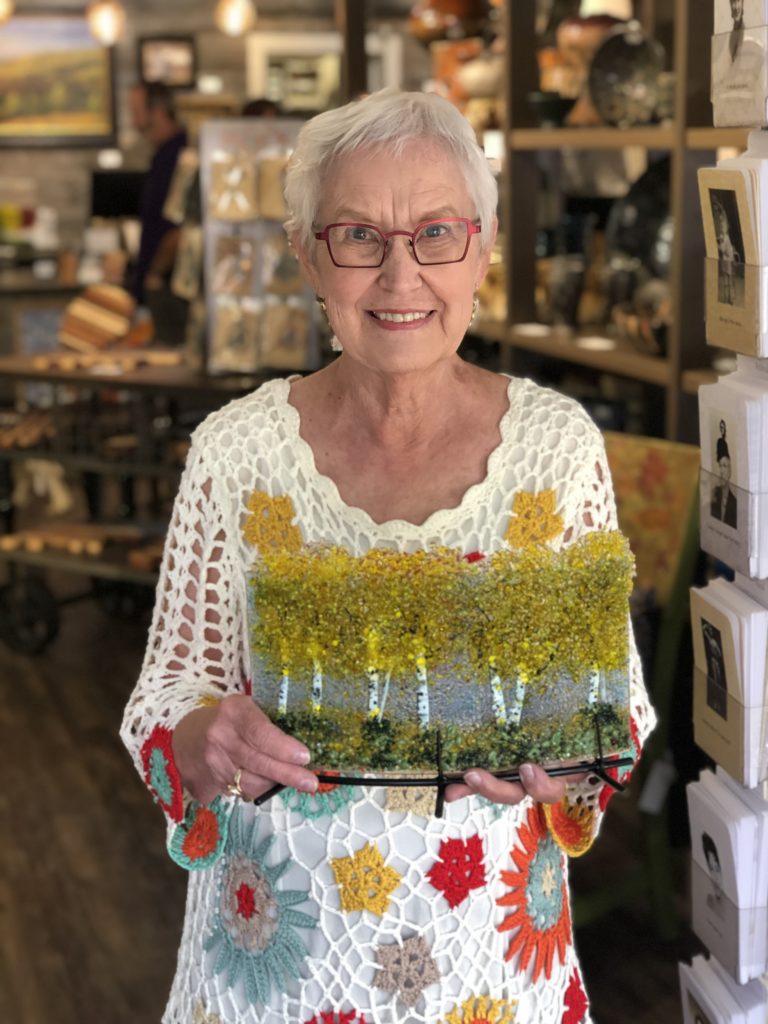 ---
Options
Are you interested in purchasing a piece of Arlyss Grosz's work?
Then, please contact us at the gallery. We will email photos of current pieces. We do ship this artwork. You can choose from nightlights, cheese plates, standing glass aspen tree sculptures. Occasionally, flowers or holiday series and other creative items are available.
We will want to know what your price point is, the colors you're interested in, and the style.
A variety of choices are often available, with many price options. The nightlights start at $36, and the sculptures range from $85-$600. The cheese plates range in the $45-$60 range and make great house warming gifts.

Arlyss' glass aspen trees come in flat panels, or with curves such as a wave, convex or concave. The flat panels can be round, or rectangular. The sculptures can be open between the aspen tree trunks to see through, or with a solid panel of glass. The tops can be smooth glass, or with the frit, or "leaves" as texture above the panel.