Fused Glass Aspen Tree Sculptures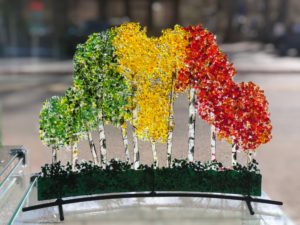 Night image of Aspens Sculptures lit up
Arlyss Grosz is a fused glass artist known for her interpretation of the Colorado landscape. Her aspen tree glass sculptures are collected nationally, and can also be seen in the Denver Art Museum gift shop.
She retired in Colorado following a career in health care and higher education. While drawing, painting and forming objects from various media had always been a hobby, it was not until retirement that Arlyss found the necessary time to concentrate on her preferred medium… glass.
Arlyss has studied with local, regional and national glass artists. Her glass art has been displayed in invitational and juried shows, and is featured in private collections in the United Nations and throughout the U.S.
She works in her home studio where she produces a wide variety of fused, kiln-formed and cast glass. Her work is characterized as eclectic and vibrant in color and often includes 3-D. 
Arlyss Grosz lives in Longmont, Colorado.
---
If you're interested in purchasing a piece of Arlyss's work, please contact us at the gallery and we will email photos of current pieces for you to choose from. We do ship this artwork. You can choose from nightlights, cheese plates, standing tree sculptures, and an occasional flower series and other creative items.