Glass – Evergreen Crystal
About the Process
The process through which Evergreen Crystal is created is painstaking and labor intensive.  The artist, Lorraine (Lori) Coyle, first sketches each design.   She then creates a template to be used as a guide for each layer of carving.
Each Evergreen Crystal vessel is hand carved, using sand expelled at various speeds and pressures, one layer at a time.  After the first layer of design is laid down on a vessel, a second layer is added, and so on, until the multiple level carving achieves a depth that almost makes the vessel come alive.  The end stage of each piece is so fine that it is almost like air brushing.  The number of layers on an individual piece depends upon the intricacy of the design, and it is this delicate process of multi-layering that sets apart Evergreen Crystal from other similar products.
About the Artist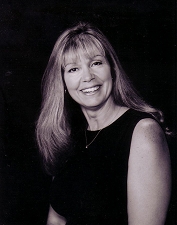 Lorraine (Lori) Coyle's interest in art began as a young girl when she started translating the natural beauty of her native California into her pen and ink drawings.
As a young adult, Lori expanded her artistic talents and her instruction in glass and crystal art emerged. Soon she was etching designs into large glass sheets that would express her art form in such uses as entrance ways, doors, windows, room dividers and the like. Lori's talent grew as did her reputation and little company. Soon she began creating her art for such companies as Neiman-Marcus and Robinsons.
As Lori's experience grew so did her natural artistic inclination. Moving her company and etching to an oversized garage, she began conceiving and creating her own design style. One day while working in her garage studio, she received a call from The White House. Learning that The White House needed a number of vases in just one week, a design of an unfurling flag in a field of stars was created and used in the 1989 American Success Awards. These awards were presented to notable Americans such as George Strait, and Norma Kamali among others.
That commission led to other important work-the National Press Foundation awards (given to Ed Bradley, Barbara Walters, & Ann Landers), Rose Bowl trophies, Exxon corporate awards, The Phoenix Golf Open, and the 1984 Olympic sponsor prize awards. Lori's work has been seen on National TV ads for Anheuser-Bush commercials (mugs etched with their logo), and in Better Homes & Gardens.
Lori moved to Colorado several years ago, eventually to Montrose, where her award-winning business continues to expand into the retail and wholesale areas.

Surrounded by the majestic Rocky Mountains, Lori finds inspiration for her designs in the natural beauty and wildlife of the area. As with many great artists, sometimes design ideas just seem to reveal themselves to her. At an art show in Snowmass, Colorado her imagination was captured by the regal bearing and texture of a small aspen grove. Thusly, her popular aspen tree design was given life.
The talent of Lori's hands, the dreams of her heart and the beauty of the world around her come together in the graceful, lovely and timeless designs for those choosing to own an Evergreen Crystal.