Acrylic Brushwork
Hannah Jensen is a Colorado-born artist who is currently active in the Denver metro/Golden area. Jensen specializes in Acrylic Brushwork. Her roots lie in Golden, CO and the surrounding Rockies, where she has spent her life on mountains and in canyons, immersed in nature and community. From guiding backpacking trips to rowing down the Grand Canyon, the outdoors have always been about more than a good time for her. Nature is a place to cultivate simplicity, friendship, joy, to share stories, and to become intertwined with Something Greater.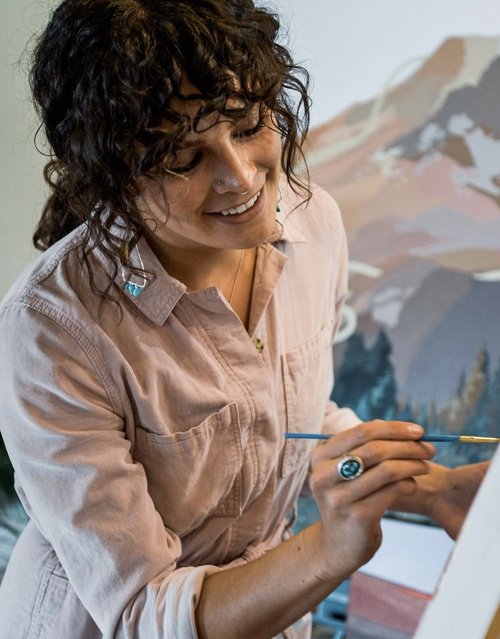 In her paintings, Jensen recalls connections with the Divine found through her adventures in nature. Co-opting liturgy and imagery from religious tradition, she aims to elevate the sacredness of the outdoors and fellow human beings. Jensen brings commemorative meaning to her paintings through the recreation of scenery that she has experienced as holy ground.
Hannah uses acrylic brushwork through gestural expressionism to show her vibrant interpretation of landscapes. As a finishing touch, Jensen adds a winding line to these scenes. Therefore portraying a pilgrimage taken through wild places and the interplay between the Divine, humankind, and the great outdoors.