Photographer – Mountain Girl Photography
Marsh marigolds bloom on the shores of Hancock Lake just below the Continental Divide in Chafee County, Colordao. This lake is an access point for the continental divide trail.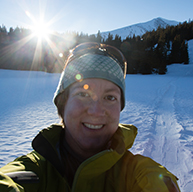 "I have loved photography since the day I got a blue Fisher-Price camera when I was a kid.
Since then, I have always been on the lookout for images to capture that people will enjoy. I love the many perspectives that can be captured through photography. More than that, I love how the astounding beauty of the world around us can be glimpsed through photography and how God is revealed in the world around us in details large and small.

My specialties are landscape, nature and commercial photography–although I have been caught doing portraits from time to time. All in all, I love capturing the grand beauty and the things less noticed in the world around me.

I hope you enjoy looking at a few of my pictures!"

Laura Harwood lives in Evergreen, Colorado with her husband and daughter.

---
Laura welcomes commission work, and custom sizes. More images are available to purchase or order.