Fused Glass
Michelle Manquen is a fused glass artist who lives in Evergreen, Colorado. She works with many different styles and techniques. Within her work, you can find beautiful wall pieces on aluminum, gorgeous landscapes on metal stands, elegant glass bowls and platters, and more! Her styles vary from Colorado-esque landscapes to sleek, abstract waves of color. Michelle is always creating and coming up with new ideas for her next project!
Michelle feels that the years spent working on living on a boat as well as traveling the world have greatly influenced her style. Her use of color and form in all her work reflects these experiences.
Michelle's membership in the Glass Artist Fellowship has helped her to learn new techniques and grow as an artist. Numerous galleries currently represent her across the nation. She currently lives in Evergreen, Colorado with her husband and dogs.
Manquen is a very active and popular artist featured in The Evergreen Gallery. You can always find new and diverse work of hers here! Come see what's new!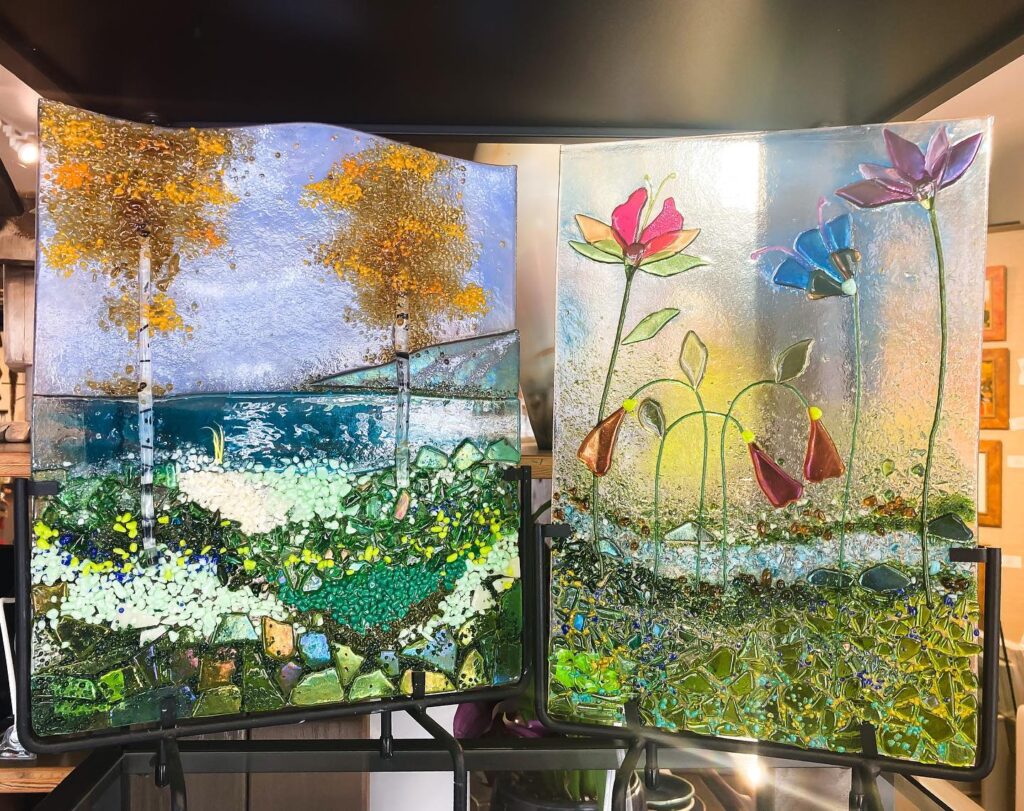 How Michelle Makes Her Work:
Michelle cuts her glass, layers it, and then includes torch-manipulated strings of glass, and many other forms of glass, that she combines to achieve the final piece. The piece is fired up to 1,465 degrees over a period of 11 hours. She then removes the piece from the kiln and finishes the edges and drills holes if necessary. The piece is placed on a form that Michelle has made specifically for the piece and fired again over 9 hours.