Raku Fine Art & Functional Pottery
Sumi von Dassow is well-known in Colorado as a potter. She specializes in Raku Fine Art and functional pottery. She is also a teacher and a writer. Her work includes brightly-colored functional pottery, burnished and pit-fired vessels, and ceramic sculpture.
She has participated in the Cherry Creek Arts Festival and has won numerous awards in major local and national shows. Her work has appeared in books and magazines, and is in the permanent collections of several arts institutions in the country.
In addition to creating her own innovative work, Sumi heads the pottery program at Lakewood's Washington Heights Art Center. She has led numerous workshops both in Colorado and in other states and has taught a wide range of pottery classes. She is widely recognized as an expert on pit firing and burnishing.
Sumi currently lives in Golden, Colorado.
– Functional Pottery –
With her functional pieces, Sumi combines her love for cooking and pottery. She made these beautiful creations for you to use everyday, and can last you a long time. Almost all her dishes are microwave and dishwasher safe, so no extra care is needed.
– Pit-Fired Raku Fine Art –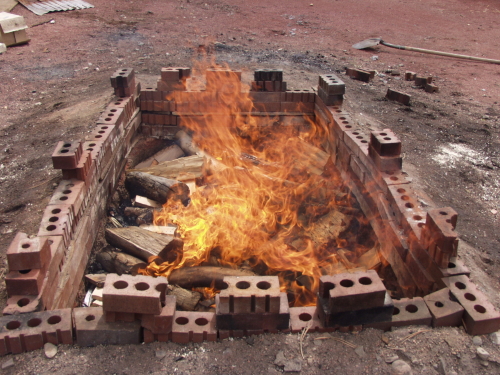 The Process of Raku Pit Firing-
Pit Firing is a modern adaptation of age-old firing methods. In a pit dug two feet into the earth, unglazed burnished pots are nestled in a bed of wood shavings and sprinkled with salt, copper sulfate, and plant fertilizer. Organic materials such as coffee grounds and banana peels may be placed around the pots, as well as copper wire or steel wool. All these materials contribute color to the pots in the pit. The pots are then covered with scrap lumber and firewood (from fallen limbs and standing dead trees) which is lighted and allowed to burn for several hours, until the pots are blanketed with ash. Each pot is uniquely colored by fumes from the materials in the pit, patterned by the flow of air around it, and blackened by contact with smoldering fuel. Each pot has a story to tell, if one can only learn to read it.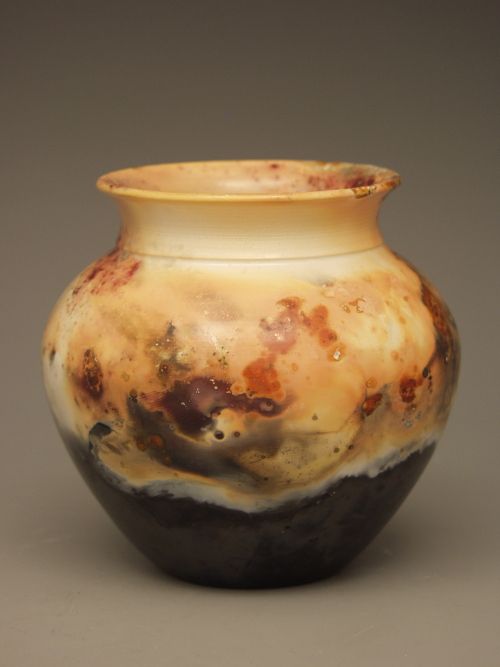 Tips to care for your Raku:
•Do not ever attempt to put any amount of water inside or on the surface of your Raku. Raku does not appreciate any water and will disintegrate.
•Dust lightly with a feather duster or soft brush.
•Place out of direct sunlight to keep from fading.
Raku is purely decorational, not functional! Your flowers may look pretty in it, but this is a surefire way to ruin your Raku… and we don't want that!
A Little More About The Artist…
Sumi was born in Seattle, Washington and began studying ceramics in high school. At the University of Washington she studied under Patti Warashina and the late Howard Kottler. Continuing at San Francisco State University, she studied with Joe Hawley and David Kuraoka. She graduated Summa Cum Laude in 1987 with a degree in Art with an Emphasis in Ceramics.
Sumi has exhibited and won national awards in major juried shows for her pots. For instance, "Feats of Clay" at the Lincoln Arts Center in Lincoln, California and the Kennedy-Douglass Center for the Arts "Monarch National Ceramic Competition.". In addition, Sumi has her work displayed in the permanent collections of institutions such as the Topeka and Shawnee County Public Library in Topeka, Kansas, and the Hoyt Institute of Fine Arts in New Castle, Pennsylvania. Commissioned work includes a tile installation at the Foothills Art Center in Golden.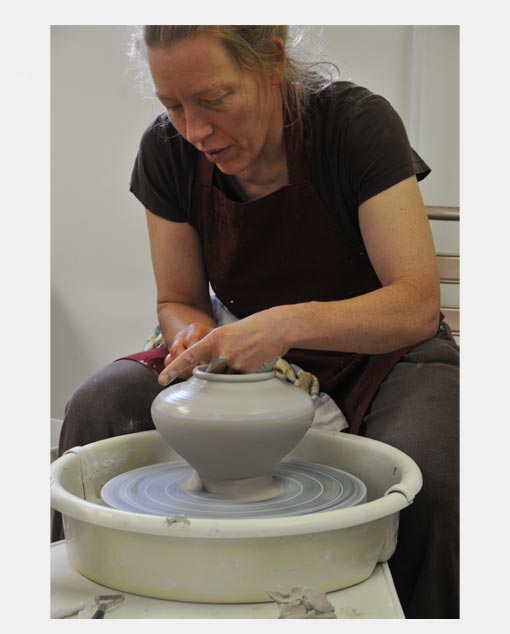 "I make pots because I love to work with clay. I love the feel of clay in my hands, whether I'm throwing or hand-building. I love the way clay responds and takes shape according to my bidding. Clay has a life and will of its own, which must be respected – so, as with people, different kinds of clay will naturally be suited to different kinds of jobs. Whatever clay I'm working with, watching and feeling it take form in my hands is something that never fails to make me smile."
The Evergreen Gallery is proud to represent Sumi von Dassow and her incredible pottery. Whether you're looking for beautiful Pit-Fired Raku Fine Art or gorgeous functional pottery, we have many, many different options to choose from!