Wally Pots and Humorous Functional Pottery…
…including the farting unicorn mug made famous by Elon Musk.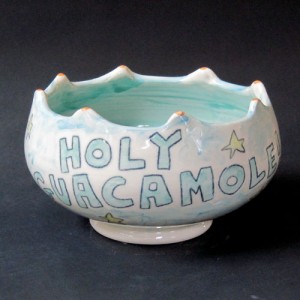 Born and raised in Manhattan Beach, California, Tom Edwards took his first ceramics class at Mira Costa High School when he was fifteen years old. "I remember being very excited about the process of pottery right from the start. It was like magic for me as I had always been really bad at drawing and painting, and here was something artistic that I really enjoyed."
While pursuing a B.A. degree in Art History at UC Santa Barbara, Tom took two years of studio art classes in ceramics and sculpture. During his senior year, he realized that he wasn't cut out for the world of graduate studies in art history, so he concocted this plan to make pots for a living.
"One day I started drawing these really simple Wally jokes on the pots just for my own amusement. When I took them to a craft fair, the response was incredible. Within a month, I had an order for a complete dinnerware set and people were asking for more Wally adventures."
Tom created the "Wally" cartoon which ran for eight years in Evergreen's The Canyon Courier. "Having a weekly cartoon deadline was a great way to develop ideas and learn to draw."
Tom recently became a bit more famous in 2018 over the farting unicorn mug when Elon Musk violated copyright issues and used the artwork for marketing and as a greeting in the Tesla cars' consoles. Many articles and news stories went viral over this. Tom won.

Tom Edwards and his wife Lori live in Evergreen, Colorado.