Photographer and Evergreen Gallery Owner
Beth is the current owner of The Evergreen Gallery and the Evergreen Angel™ pendants.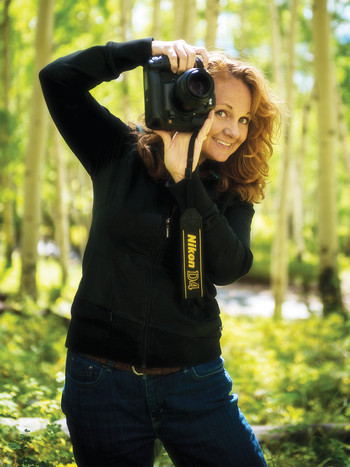 She was given her very own camera, a Nikon FE2, when she was 12, over 35 years ago. She has worked for, and studied with professional photographers ever since then, learning from many, and spending countless hours in both the chemical and digital darkroom – playing, exploring.
Virginia is Beth's native state, where she studied Studio Art and English at the University of Virginia. She has been fortunate to live and travel around the country, as well as Europe. Colorado has been home for over 17 years now.
Beth calls herself an "Intimate Landscape Photographer" as she is fascinated with a closer look at nature and our surroundings … studying snowflakes nesting, flowers dancing, and even the aging of bricks and mortar.
She has taken many images of snowflakes. It's a fascinating little world amongst them, as they take on personified images of warriors and fallen; Broken or proud; Marching or waving a flag; Athletes and stars; Or even architecture — castles, bridges, arches, and buildings. Sometimes they are trees, and often they are just simply snowflakes.
Her first inspiration of taking snowflake photographs came from William Bentley of Vermont, who took his first snowflake photograph in 1885.
Beth continues to use Nikon, as well as an old macro lens that her father gave her when she was about the age of 14 — pre-digital. She wears very warm winter clothing, really good snow boots, special gloves to deal with the cold yet still is able to adjust the camera dials, and then capture the snowflakes in their environment as they land on earth.
Beth lives in Evergreen, Colorado with her family and her work is currently shown exclusively at The Evergreen Gallery.