Fused Glass Aspen Plates and Platters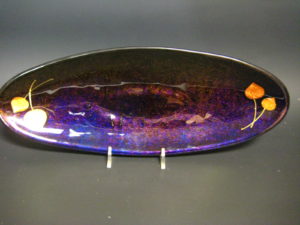 The Cuins have created these unique fused-glass aspen leaf dishes that reflect many colors within the glass. The aspen leaves are gold leaf, and they change colors as it moves, from yellow to green to orange to gold, just as aspen leaves change throughout the year.
Complementary skills and know-how is what makes the partnership of David and Danna Cuin work in producing art glass of many kinds. The route to those skills, however, has not been predict­able or direct.
The skills of handling, cutting and patterning glass; color and texture selection; the technology of materials; a bent for experimentation and development; and the design and composition talents of a watercolorist combine well in David and Danna's partnership.

Their glasswork is original and innovative, frequently crossing the boundaries of the divisions in glass art.
The Cuin's are active in many aspects of their community of Evergreen, Colorado. They have retired from making these beautiful plates, so even though we still have many choices at the gallery, there won't be any new pieces being created.
---
Care of the Glass:
The glasses used in fused art glass are softer that window glass and scratch more easily. Soap and water, rubbing alcohol, or other alcohol based glass cleaners are preferred for cleaning.