For the Month of Photography Denver March 2019 at The Evergreen Gallery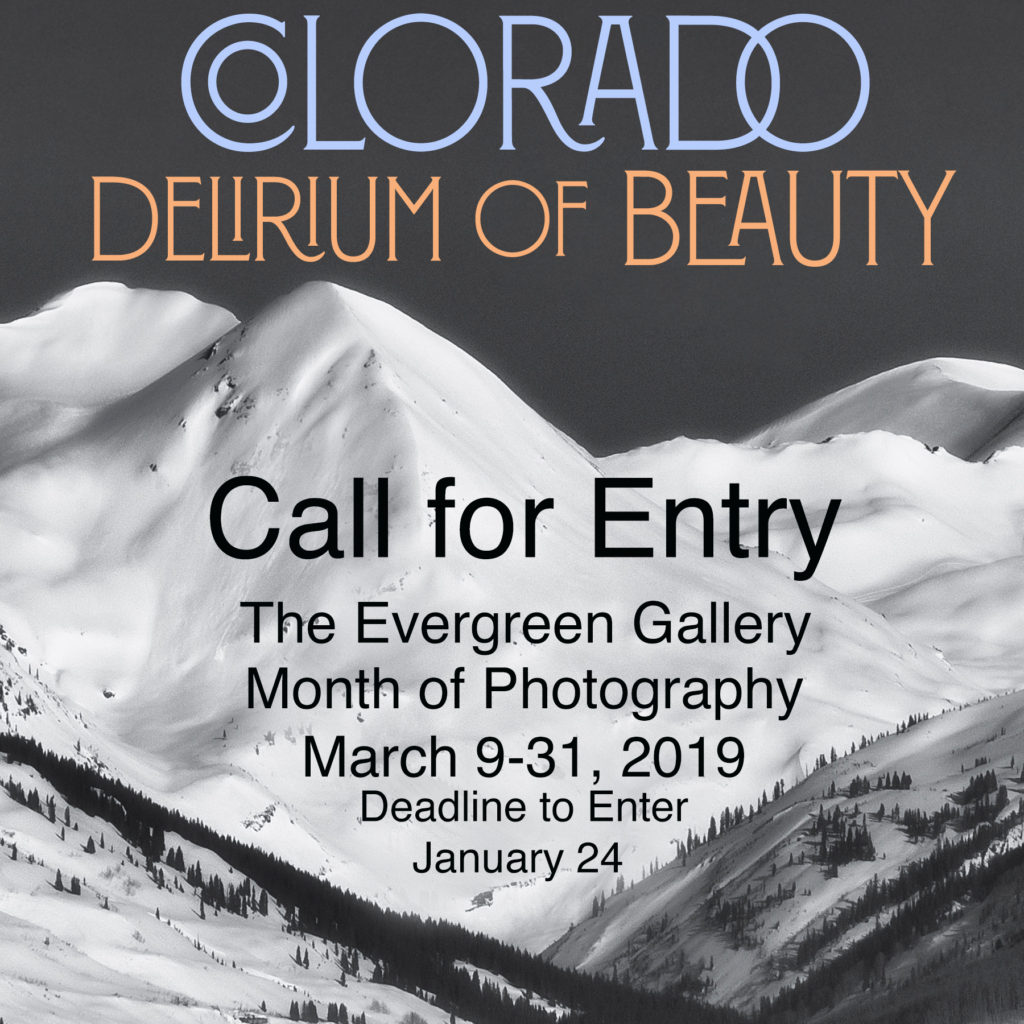 "Colorado: Delirium of Beauty" – A Juried Show of Colorado Photographers and their spectacular images.
Deadline to enter this show has passed. To Enter:
Please feel free to call the gallery at 303-674-4871 or email at coevgal@gmail.com
Gallery Show Dates:
Show on Public View:
Friday, March 8 through Sunday March 31, 2019

Opening Artist Reception:
Saturday March 9, 2019 – 4-6 pm, Awards at 5 pm
Location:
The Evergreen Gallery
28195 Hwy 74
Evergreen, CO 80439
On the Historic Main Street – Downtown Evergreen
(Across the street from Baskin Robbins)
Gallery Hours – Open Daily:
Monday-Saturday 10 am-5:30 pm
Sunday 11 am-5 pm
Contact Info:
303-674-4871
Contact Name: Beth Riser
coevgal@gmail.com

www.TheEvergreenGallery.com
www.Facebook.com/TheEvergreenGallery
Instagram: @the_evergreen_gallery
Show Summary:
To celebrate the biennual "Denver Month of Photography 2019," (https://www.mopdenver.com) The Evergreen Gallery, owned by fine art photographer Beth Riser, is featuring an exclusive juried show of Colorado photographers and their most stunning images of this state.
The theme for this year's Month of Photography Colorado is "Delirium," which can mean a state of wild excitement, happiness, pleasure, ecstasy and euphoria. Our chosen photographers will present their most creative and exciting outdoor imagery of the Colorado sky, landscape, floral, wildlife, etc. for people to experience astonishing Colorado moments through photography.
The Evergreen Gallery is a 31-year-old Colorado artisan gallery with nearly 100 artists represented. This well-loved gallery is located on the historic Main Street of Downtown Evergreen and is open daily.
Awards:
Best in Show $350*
2nd Place $250
3rd Place $150
People's Choice $100
*Best in show will get a one-month wall feature of several pieces
in the gallery. Date to be determined.

Important Dates:
Deadline to Enter: Thursday, January 24 Midnight
Acceptances given by: Tuesday, January 29
Accepted artwork Drop-off – March 3-5
Hanging Day: Wednesday, March 6
Artist Reception: Saturday, March 9, 4-6 pm
Awards announced at 5 pm
Show ends: Sunday, March 31
Unsold Artwork Pickup: April 1-3

This will be a stunning professional juried photography show for the Month of Photography. There is a limited amount of space, so there are size requirements, as described below.
We invite you to enter your spectacular images of Colorado. The theme given to us from the Colorado Month of Photography board is "Delirium," which means a state of wild excitement, happiness, pleasure, ecstasy and euphoria. So, we have called our show: Colorado: Delirium of Beauty
The details:
Enter your best shots of Colorado.
Please enter up to five images for jurors to choose from.
Photos must be taken in Colorado.
Photographers must live in Colorado.
No date constraint on when images were taken.
Artwork must be available for sale.
Commission: 55% to artist 45% to gallery.
Final presentation cannot be longer than 30" wide (including framing) due to space restraints. No exceptions, as this would not be fair to other photographers following the directions.
Accepted artists may bring in 5 bin prints, any image to offer for sale, maximum size of prints 24". Please have wrapped appropriately for protection, such as in Clear Bags or shrink wrapped.
$30 Entry Fee
Blind Jury
Award winning images will be juried after the show is hung in the gallery.
Award winners announced at 5 pm on Saturday, March 9.
An Exhibition Catalog will be created.
Image submission:
You may enter up to five images.
Please upload the jpgs using the Google Form.
Images need to be under 2 MB each.
Please rename your jpgs for this event: First three letters of your last name and the first letter of your first name, and then numbers 01 – 05. For example, if your name is Bob Smith… the name of your image files should be SMIB-01.jpg, SMIB-02.jpg, etc.
You will be able to submit files after you pay your entry fee.
Fees: $30
The entry fee will go toward prize awards, marketing, employees, gallery and event costs. Please pay through the PayPal link at the top of this page when you submit your entries. Marketing will include an article in the local magazine reaching tens of thousands, Month of Photography marketing, and more paid advertising in Facebook, Instagram and many other sources throughout the duration of the show. The gallery is open every day of this show.
Artwork Parameters Once Accepted:
Finished, presentation artwork – minimum size 6" x 6". Maximum size 30" on the longest side. Your finished piece cannot be larger than 30" framed on the longest side, so a framed image 30×30 is allowed… a 31" by 30" inch will not be accepted. If you have a 24" inch print with a frame that is 3" on each side, then that adds up to 30". Got that? Absolutely no exceptions! Yes, we will feel badly if you arrive on drop-off day with something larger, but we are informing you now.
You may print on the medium of choice. Please choose appropriately for most stunning presentation of your image.
Please have professional framing wire on the back…. No cleat hanging will be utilized.
Upon acceptance, resources will be given for printing and framing if needed, and any help with pricing your artwork. For those of you new to this experience, guidance will be given upon request. Keep in mind that it's more about the image than the frame, so best to keep the frame clean and simple rather than a distraction of your artwork.
Tips as to what we are looking for:
This show is to fill a void that will not be seen in most of the shows during the Colorado Month of Photography – outdoor Colorado Images by Colorado Photographers. There are many of you out there, so please show me something distinctive and beautiful that you have captured of this state.
Yes, you are allowed and encouraged to use Adobe Photoshop or other editing software, if necessary. What was your vision when you took the photo? Your camera doesn't always capture what you saw in your mind. We want to see what you envisioned.
After years of curating shows and festivals, here's some advice, please do not enter any images of the Maroon Bells – most jurors don't want to see this scene over and over again. If entering other calls for entry, this one image may likely hurt your chance to get into festivals and shows as it is too common and many photographers submit similar photos in every show, on average 3-6 different photographers will submit this scenic landmark. Jurors are looking for something new and different that stands out and is memorable.
For this call for entry, we are not looking for edgy, or political statement photography, so please don't waste your entry fee on this type of imagery.
We are looking for unique images of this state to be enjoyed in a home or office … wide landscape, macro, wildlife, cityscapes, waterscapes but not the typical "seen that before" shot. Not a snapshot, but a striking scene with a quality presentation that is beyond what the general public ever sees or could imagine … an image of wild, euphoric beauty!
The best photographs are ones that will make our customers think, "I want to own this and enjoy it every day!" We want your work to sell.
Jurying will be based on technical ability, presentation, creativity, and overall impression of the image.
Thanks for entering this show.
We look forward to displaying your work!